Ketamine is a medication, which has long been used to induce general anaesthesia (for adults, and, even more frequently, in paediatric surgery, as well as during dental procedures) and to alleviate pain. Ketamine was introduced into clinical practice in the 1960s and its safety has been well established over the intervening 50 plus years.
Over the last two decades, ketamine has increasingly been accepted, in both the USA and the EU, as an effective option for the treatment of depression. Its efficacy in this indication has been documented in numerous clinical studies, ranging from 30 to 70 % within the week following the administration, depending on the individual study. Moreover, in the recent years, the indications for ketamine treatment have also come to include anxiety disorders, eating disorders. and post-traumatic stress disorder.
Ketamine is considered a rapid-acting antidepressant. This means that in up to 50 % of patients who experience an antidepressant response, the antidepressant effect occurs on the day of administration and lasts for an average of about 5 days. Rapid symptom relief has also been observed in other indications and may be an alternative or addition to standard therapy. We work to prolong this effect by means of assisted therapy.
TREATMEN RESISTENT CONDITIONS
The effect of ketamine in the treatment of mental illness has also been documented in people where previous treatment has been shown to be less effective or without any effect. It therefore gives hope to patients who have not experienced a feeling of psychological relief for many years.
KETAMINE IS NOT JUST AN ANAESTHETIC
As an antidepressant, ketamine is used in much lower doses than those used for general anaesthetic purposes, so it does not induce general anaesthesia or cause a loss of consciousness. At this dose level, the effects of ketamine may typically include: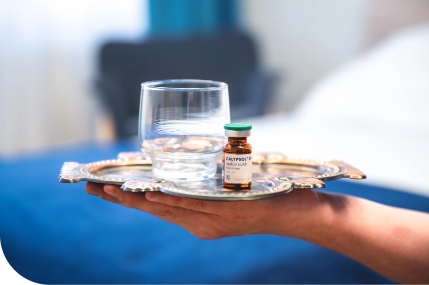 Mild dream-like or dissociative state
Anxiolytic effect (anxiety relief)
Antidepressant and antisuicidal effect
Psychedelic state (expanded state of consciousness)