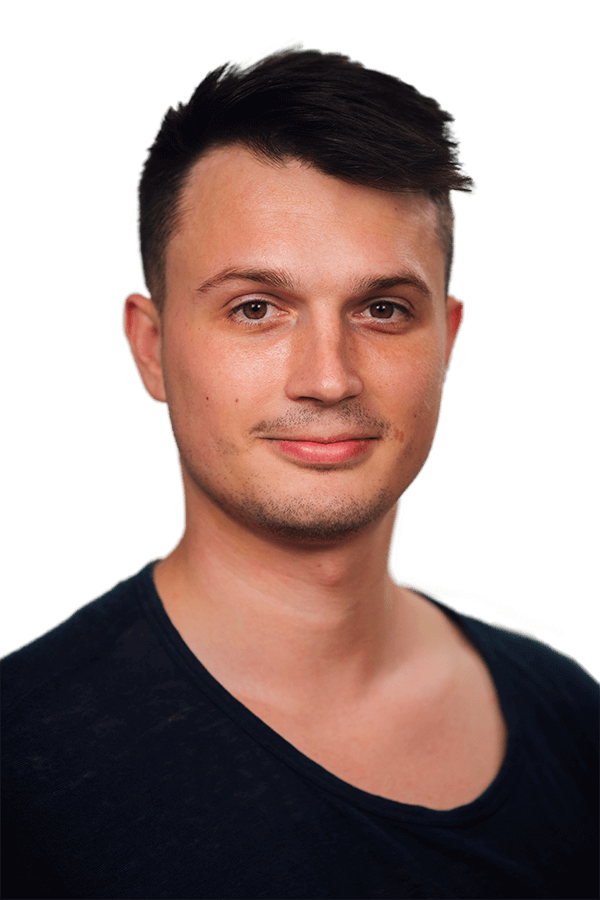 Mgr. et Mgr. Stanislav Milotinský
I am a graduate of two study programmes, Psychology and Psychotherapy Studies, at the Faculty of Social Sciences of Masaryk University (MUNI) in Brno. I have also spent a year studying at the New Mexico State University, USA.
My professional interests include mindfulness, of which I am a regular practitioner and also use it in my work with clients. My interest in psychedelics encouraged me to become a founding member of the Czech Psychedelic Society (CZEPS) and the psychedelic harm reduction service Psycare. In 2018, I completed the only publicly available legal training course in psychedelic-assisted psychotherapy at the California Institute of Integral Studies (CIIS) in the USA. In 2019, I concluded the 5-year training course in Person-Centred Psychotherapy (also known as Rogerian psychotherapy) and this year I am completing the MDMA Therapy Training Program.
As part of my specialist postgraduate studies at the Bohnice Psychiatric Hospital, I have focused on people with borderline personality disorder. I am also a PhD candidate at MUNI, focusing on MDMA-assisted psychotherapy. As of now, I have personally conducted more than 5,000 hours of individual and 1,000 hours of group psychotherapy consultations. I regularly participate in psychotherapy supervision and intervision sessions.
In my spare time, I enjoy outdoor climbing, backpacking, camping, and a wide range of creative activities.
I offer both short-term and long-term consultations to clients who want to change something about themselves. I believe that all of us possess inner wisdom and a healing power, which can guide us through life.
The basic pillars of my approach include acceptance of each client's individuality, respecting their uniqueness, an unmasked sharing of their current state of being, and mindfulness. In my counselling sessions, I do not take a directive approach, as my goal is to help an individual become their own best guide and mentor in life. In my opinion, it is internalized inhibitions and past, no-longer-appropriate defence strategies which are often the root cause of mental illness (apart from genetic predispositions). I work together with my clients to uncover these inhibiting strategies in order for them to live a less restricted and happier life.
Apart from standard psychotherapy approaches, I have particular interest in the integration of psychedelic experiences, working with guided imagery, mindfulness practices and certain elements of dialectical behaviour therapy, as suitable to clients with borderline personality disorder.
Both long-term cooperation and short-term crisis intervention are possible.
Education
2010: Motivational interviewing– 25-hour basic course
2011: Conflict management (MUNI) – 8-hour course
2015–2019: Person-centred approach (Český institut PCA) – psychotherapy training course approved for healthcare use
2017: Facilitation of psychedelic experiences (CZEPS) – 2-day course, instructors: M. Vančura, P. Odstrčil, S. Kudrle
2017–2019: Rorschach method course (A. Polák)
2017: Healthcare psychologist training course
2017 to current: Specialist postgraduate training in clinical psychology, IPVZ
2018–2019: Thematic apperception test (P. Goldmann) – training course on the use of the test
2018: Certificate in Psychedelic-Assisted Therapies and Research – 180-hour legal training in psychedelic-assisted psychotherapy, California Institute of Integral Studies, San Francisco, USA
2018–current: MDMA Therapy Training Program for PTSD (MAPS)
2019 to current: Wechsler intelligence scales, accredited course (Institut klinické psychologie)
Work Experience
2012–2013: Volunteer at the Psychiatry Clinic of the Brno Hospital
2014–2016: Thesis and psychedelic research at NÚDZ – "The effect of psilocybin on the mismatch negativity evoked potential in a serotonergic model of schizophrenia", participation in psychedelic research including participation in intoxication sessions
2015–2017: Head of the Harm Reduction Section of the Czech Psychedelic Society (CZEPS)
2016 to current: Psycare (psychedelic harm reduction) – founder; participant in field work at music festivals
2017 to current: Private therapeutic practice
2017 to current: Psychologist at Bohnice Psychiatric Hospital (PNB) – admissions, locked ward, open ward; psychotherapy ward, outpatient care, day care centre
2018 to current: Crisis Intervention Centre at PNB – night and weekend shifts
2018 to current: Day care centre for people with personality disorders at PNB – day care centre for people with a diagnosis of borderline personality disorder, with use of dialectic behaviour therapy
2020: Clinical trial of MDMA-assisted psychotherapy for PTSD – member of research team
Related Experience
2005 to current: Czech Scouts and Guides, member since 1997, club leader 2005–2010, camp leader 2006–2015
2013 to current: Regular meditation practice
2014 to current: Acceptance and Commitment Therapy – extensive interest in this modality and self-study
Project initiator: CZEPS and Psycare; co-founder of daycare centre for people with personality disorders at PNB; co-founder of Psyon – Psychedelic Clinic
2015 to current: Conference speaker and workshop host – Czech-Slovak Psychotherapy Conference, Rational Drug Regulation, Happiness Conference of the Czech Psychology Students Association, South Bohemian Addictology Conference, etc.
2016: St. James pilgrimage to Santiago de Compostela, 800-km hike in 30 days without companions
2018 to current: Dialectical behaviour therapy (DBT) – extensive self-study of DBT and its use under supervision in a daycare centre for people with personality disorders
Language Skills
Czech – native speaker
English – C1
German – A1