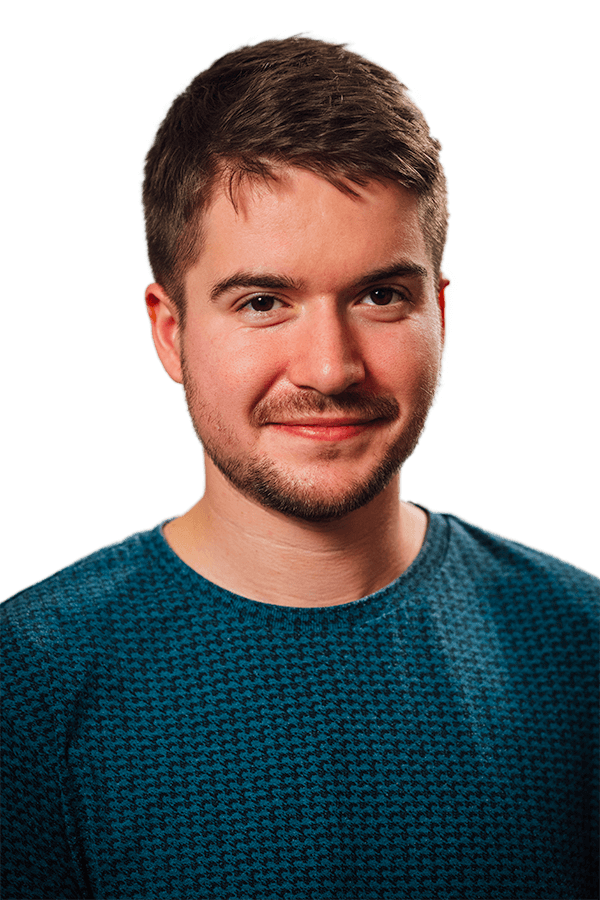 A graduate of psychology from the Faculty of Social Studies at the Masaryk University, Brno, I am currently a post-graduate student of neuroscience at the 3rd Faculty of Medicine, Charles University, Prague. The focus of my PhD research is depression. I work at the Czech National Institute of Mental Health (NÚDZ) and am a member of the research team specializing in the study of psychedelics and psychedelic-assisted psychotherapy. In 2016, along with my colleague and close friend Mgr., Mgr. Stanislav Milotinský, I became a founding member of the Psycare harm reduction service, which assists people who are going through difficult psychedelics experiences.
I am a participant in specialist postgraduate training in clinical psychology. My work includes psychodiagnostics, individual and group psychotherapy, and patient education.
I have completed special training in comprehensive crisis intervention, and am currently participating in training courses in analytical psychotherapy (accredited by the Czech Psychotherapeutic Society [ČPS]) and MDMA-assisted psychotherapy.
I offer individual psychotherapeutic counselling sessions with adults and adolescents using Jungian analytical psychology, which is one of the so-called "depth psychology" approaches. This means that, apart from discussing your relationships, concerns, difficulties and joys, we can also direct our attention in our sessions to a deeper understanding of one's individual self in connection with one's emotions and one's unconscious (working with dreams, fantasies and other symbolic material). I always consider my clients as partners and as experts on their own life. My role is to accompany you on your path.
Both long-term cooperation and short-term crisis interventions are possible.
800 CZK per 50-minute session. Payments by cash or bank transfer.
Profesní zkušenosti:
2019 – dosud Psycholog ve zdravotnictví v atestační přípravě (Národní ústav duševního zdraví)
2017 – dosud Výzkumný pracovník týmu MUDr. Tomáše Páleníčka, Ph.D. zaměřeného na výzkum efektu psychedelických látek pomocí neurozobrazovacích metod (Národní ústav duševního zdraví)
2017 – dosud Odborný garant projektu PsyCare (www.psycare.cz)
2017 – 2020 Garant harm-reduction sekce České psychedelické společnosti (CZEPS)
2014 – 2016 Asistent psychologa – výběrová řízení, rozvojové programy (Psychocentrum Zlín)
2014 – 2015 Osobní asistence u dětí s PAS (APLA Jižní Morava)
Členství v profesních organizacích:
2019 – dosud European behavioural pharmacology society
2018 – dosud Česká neuropsychofarmakologická společnost
2018 – dosud Česká společnost pro analytickou psychologii
2015 – dosud Česká psychedelická společnost
Profesní vzdělávání:
2020 Kurz Rorschachovy metody (Institut klinické psychologie)
2020 Training in Psilocybin for treatment resistant depression study (Compass Pathways)
2018 – dosud Psychoterapeutický výcvik v jungovsky orientované psychoterapii (ČSAP)
2018 – dosud MDMA-asistovaná psychoterapie pro post-traumatickou stresovou poruchu (MAPS)
2018 Psycholog ve zdravotnictví (PVŠPS)
2018 Odborná stáž EEG a epileptologie (Nemocnice na Bulovce)
2017 – dosud Ph.D. studium: Neurovědy (3. lékařská fakulta Univerzity Karlovy)
2017 Výcvik v kompletní krizové intervenci (Déčko Liberec, z.s.)
2017 Kurz psychedelického sittera (Mgr. Vančura, MUDr. Kudrle, Mgr. Odstrčil)
2011 – 2017 Psychologie – jednooborová, Bc. a Mgr. (Fakulta sociálních studií Masarykovy Univerzity)